Beeing Social, Again
Ithaca College
August 1-5, 2022
Registration
Interested in being a volunteer?
Volunteers are the heart and soul of the Conference as it runs throughout the week. Volunteer opportunities are explained below.
Conference Details
The conference team has been working diligently to formulate the EAS Conference 2022. As the short course and main conference come together we are assembling a roster of excellent speakers, including Dr. Tom Seeley, Professor of Biology Emeritus, in the Department of Neurobiology and Behavior at Cornell University, Dr. Scott McArt and Emma Walters – Cornell University. These folks will participate in both the short course and the main conference providing the latest in research, extension work and beekeeping.
The short course will feature experiences for all levels, from Beginners to Advanced. We are excited to collaborate with the historic Dyce Lab which will serve as the site of a portion of the short course as well as a microscopic component that will span both the short and full conference.
Kutik's Everything Bees, family-owned and operated since 1978, will be hosting a Wednesday afternoon tour and demonstrations at their facility in Oxford. The day will culminate in a wonderful evening barbecue on site. An excellent opportunity to visit a commercial beekeeper with multiple endeavors including queen rearing, nuc production, pollination, and honey harvesting.
Auctions will include a virtual online before the conference, silent auctions during the conference and a live auction on Thursday evening. If you or your company wishes to donate an item for auction, please check the web page for instructions.
Our vendors will have a large venue in which to demonstrate and offer their latest equipment and products – always a highlight of an EAS conference!
Additional social events will include a "dine around Ithaca" on Monday evening with registrants joining a local beekeeper at one of the varied restaurants in the area to chat bees and sample the local culinary scene.
The Ithaca area offers many local activities including hiking, boating and fishing in public parks and waterways and dining opportunities to fit any palate and budget. Accommodations range from camping to dormitory accommodations to motel and hotel venues – something for everyone. The area is known for the production of wine and abounds with wineries and meaderies allowing you to sample the products of our local vineyards and apiaries.
We welcome you all to "Beeing Social, Again" at the EAS Conference 2022 to be held at the Ithaca College Campus in Ithaca, NY! Hope to see you there!
Becoming a Volunteer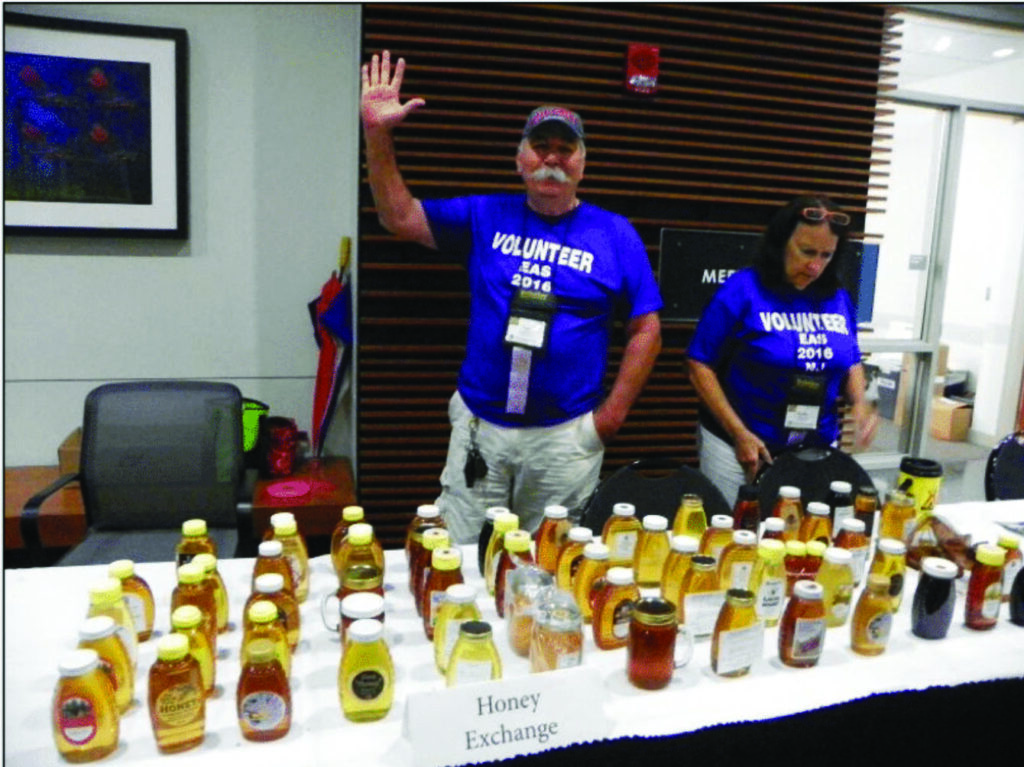 Volunteers are the heart and soul of the Conference as it runs throughout the week. As the conference is being planned, there are teams of folks and committees ironing out details. But, when the conference starts, it takes on-site EAS members serving as volunteers to make the conference a success. Volunteers are needed to help as room monitors, with the honey exchange, the children's program, auction setups, transportation of speakers from and to the airport, assistants on field trips, meal supervisors, signage and more. Something for everyone.
The following are guidelines to help you decide how many hours you wish to volunteer: ·If volunteering for 4 to 7 hours, you can attend the conference for the remainder of the day for free.·If you volunteer for 8 hours, you can attend a second day of the conference for free and get a volunteer t-shirt, or you can split the 8 hours of volunteering and 8 hours of attending talks between two days. ·If you volunteer for 16 hours (2 days), you receive a volunteer T-shirt and the other days of the conference for free. All volunteers will be signing in each day to log their volunteer hours and be given their assignment, hopefully one that is similar to your requested activity. You will also be noting what times that day you will be spending as a 'conference attendee' so that can be tracked as well. All volunteers must be EAS members. Annual membership fee is $35.Thank you for your interest in making EAS 2022 in New York a success!
After you register as a volunteer, you will be contacted to sign up for the day(s) and time(s) that suit you best. The conference cannot be run without our strong EAS community of volunteers and we thank you in advance for your service in making this another great conference.
EAS 2022 Conference Includes: